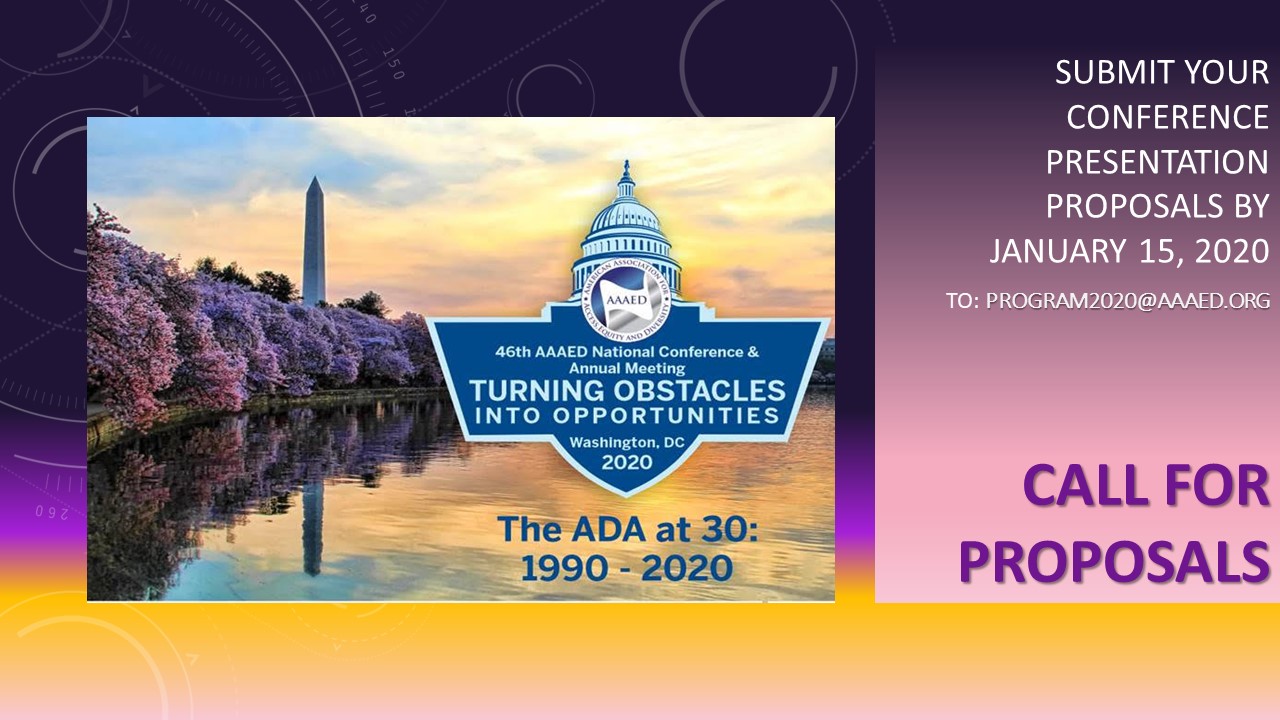 JUNE 6, 2020 TO JUNE 10, 2020
Call for 2020 Proposals
The American Association for Access, Equity and Diversity (AAAED) is seeking presenters to share their expertise, passion and commitment to promoting diversity and affirmative action with a national audience during our 2020 National Conference and Annual Meeting in Washington, D.C., June 6, 2020 to June 10, 2020. Our theme for the Conference is Turning Obstacles into Opportunities. We are also acknowledging the 30th anniversary of the Americans with Disabilities Act of 1990.
AAAED, formerly the American Association for Affirmative Action (AAAA), is a national, not-for-profit association of professionals working in areas of equal opportunity, compliance and diversity. AAAED has 45 years of leadership in providing professional training to members by equipping them to be more successful and productive in their careers. It also promotes understanding and advocacy of affirmative action and other equal opportunity and related compliance laws and regulations to enhance the diversity tenets of access, inclusion and equality in employment, economic, and educational opportunities. Our tag line is: "Advocate. Educate. Activate."
We are seeking presentations that promote creative innovative strategies and cutting-edge research to enhance equity and diversity in Higher Education, Government, and the Private Sector. Our professional development offerings are intended to help individuals who are new in their jobs or experienced and seeking updated information to stay competitive in the profession. Our curriculum and workshop options support an adult learner mode of instruction that:
Creates a comfortable and respectful learning environment,
Emphasizes the trainings' applicability to address participants' concerns, needs, interests and issues,
Utilize a variety of training methods to vary the presentation of information and help participants understand the meaning of the new knowledge or skills,
Keeps participants actively engaged, and
Encourages participants to share ideas and information drawing from their experiences.
We are providing the following presenter workshop formats: Masterclasses, Express Talks, Preconference workshops or "Deeper Dives" (workshops), as well as the standard format workshops (1.5 hours) offered during the conference. When applying to serve as a presenter, please indicate which format(s) you would prefer to use.
Presentation Formats:
Masterclasses. Masterclass presenters are, as the title suggests, masters in their fields. They will present sharing their unique experiences on a subject by covering not only the substance of a particular issue or challenge, and the application of the law or policy but solutions based on the presenter's years of experience. Masterclasses are three hours in duration and are offered during the preconference workshop segment or strategically placed throughout the conference.
Express Talks. Express Talks provide "just the facts" or the essential aspects of a particular issue or challenge, within 20 minutes. The focus is on practical tips to achieve the desired EEO or Diversity result. Presenters should make themselves available for follow up questions, where possible.
Preconference workshops ("Deeper Dives"). Preconference Workshops are intended to be a comprehensive overview of the subject matter, ranging from developing and implementing an affirmative action program to designing and executing a Climate Survey. The time allotment for this presentation is three hours, including time for questions and answers. Presentations should help conference attendees apply theory into practice.
Conference workshops. The time allotment for Conference workshops is one hour and fifteen minutes and covers a range of topics from legal developments under Title IX, to reasonable accommodations in the transportation industry, to barrier analysis in the federal sector.
We are seeking presentations that promote creative strategies to enhance equity and diversity in Higher Education, Government, and the Private Sector. Ideally, presentations should help conference attendees apply theory into practice. The presentation formats and suggested topics are detailed in the attached Call for Proposals.
There are tremendous benefits to those who make presentations at our conference, including:
National recognition
Opportunities to learn and share experiences with others
Networking
Professional development
Registration and exhibition rate discount
For more information about AAAED, please contact us at:
AAAED
1701 Pennsylvania Avenue, NW Suite 200 | Washington, D.C. 20006 | (202) 349-9855
www.aaaed.org; info@aaaed.org
Please submit your proposal electronically by January 15, 2020 to the Conference Program Committee:
Program2020@aaaed.org
For a copy of the Call for Proposals, click here