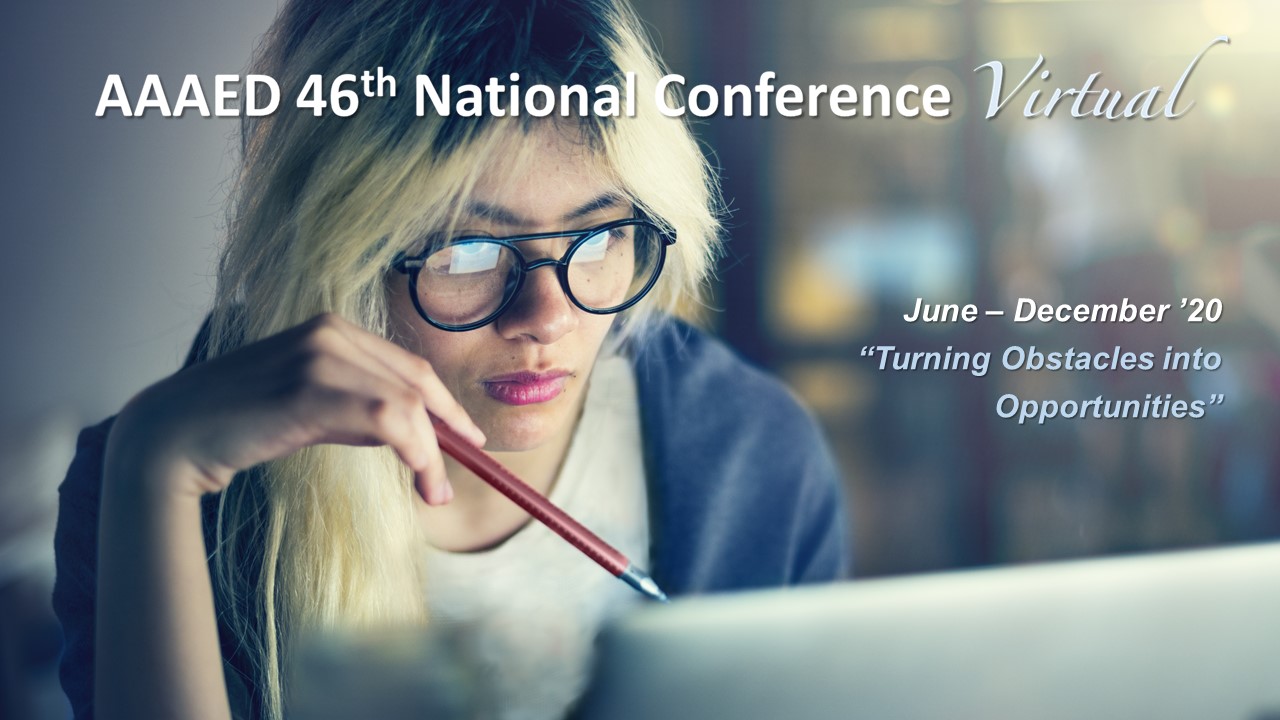 AAAED 46TH NATIONAL CONFERENCE – Virtual
CONFERENCE REGISTRATION
CONFERENCE RATES
CONFERENCE EVENT

AAAED MEMBER

AAAED NONMEMBER

Virtual Conference Registration Package – Includes "Kickoff" Summit, June 23rd; October 7th Conference and all conference Virtual Sessions (webinars) through December 30, 2020. Includes Masterclasses and Deeper Dives. ($5,500 Value)

$800

$975

Retiree and Student Rates*

$149

$149

AAAED 46th National Summit "Kickoff," June 23 2020

$195

$195

AAAED 46th National Conference, October 7, 2020

$295

$295

A la Carte Plan – Registrant selects and pays for each individual event, Virtual Sessions (webinars), Masterclass or Deeper Dive.

Webinars (90 minutes)

$259

$259

Masterclasses and Deeper Dives

(3 hrs.; two sessions)

$395

$395

Frequent Attendee (Loyalty) Discounts

$100 off each registration if the registrant attended the AAAED 45th National Conference and Annual Meeting in 2019 (registration verified).

CODE: Loyalty

Group Discounts

$50 off each registration for a group of two or more individuals from the same company, institution, organization or agency.

$50 off each registration for a group of two or more individuals from the same company, institution, organization or agency.

Speakers

One-half off Virtual Conference Package. CODE: SPEAKER (subject to verification)
** To receive the Student/Retiree Rate, students must be registered as a full-time, undergraduate or graduate student at an educational institution; or a current Retiree Member of AAAED. In order to qualify for Retiree or Student Rates, contact our registration coordinator prior to registering via email at Virtualconference2020@aaaed.org with your request.
Webinars, Deeper Dives, Masterclasses and events will be submitted for HRCI and SHRM credit.
Terms and Conditions
Substitutions of registrants for the Conference may be made at any time, but must be made in writing and submitted to AAAED. However, ONLY THE ATTENDEE will receive course credit for Conference programs.
Accommodations:
For questions about accessibility or to request accommodations please contact the AAAED Conference Planning Committee at virtualconference2020@aaaed.org or execdir@aaaed.org, Tel: 202-349-9855. Two weeks advance notice of need for accommodations is requested.
Cancellation Policy:
ALL Conference cancellations made by the attendee are subject to a 30% service charge and must be received in writing no later than 21 business days prior to the event. Registrants who do not cancel in writing prior to 21 days before the event will forfeit the entire fee. Cancellations received within 21 business days of the Conference will not be eligible for a refund.
AAAED Events Anti-Harassment Policy:
As an association of equal opportunity and diversity professionals, the American Association for Access, Equity and Diversity ("AAAED") is dedicated to providing a safe and welcoming, harassment-free experience for all participants at AAAED events. AAAED seeks to provide a conference or training environment that fosters courtesy and mutual respect and in which attendees may learn, network and enjoy the company of colleagues in a professional atmosphere. AAAED does not tolerate harassment of attendees in any form. Violators of this Events Anti-Harassment Policy may be expelled from the event (forfeiting any paid registration fees) and barred from future events at the discretion of the AAAED event organizers, board members and/or staff.
Cancellation by AAAED: Travel Expenses and other Liabilities:
AAAED will make a reasonable effort to inform participants if there is insufficient registration for each class and the class will have to be cancelled. In no event will AAAED be liable for fees or expenses incurred if the course is cancelled for insufficient registration or any event that is beyond the control of the association, including faculty or facility cancellation, acts of God, epidemics; technical failures, including Internet, WiFi and software disruptions; and political and natural force majeure events. If practicable, AAAED will make every effort to reschedule the class or event and reserves the right to offer the alternative as either a classroom or virtual training program and apply the fees previously paid thereto.