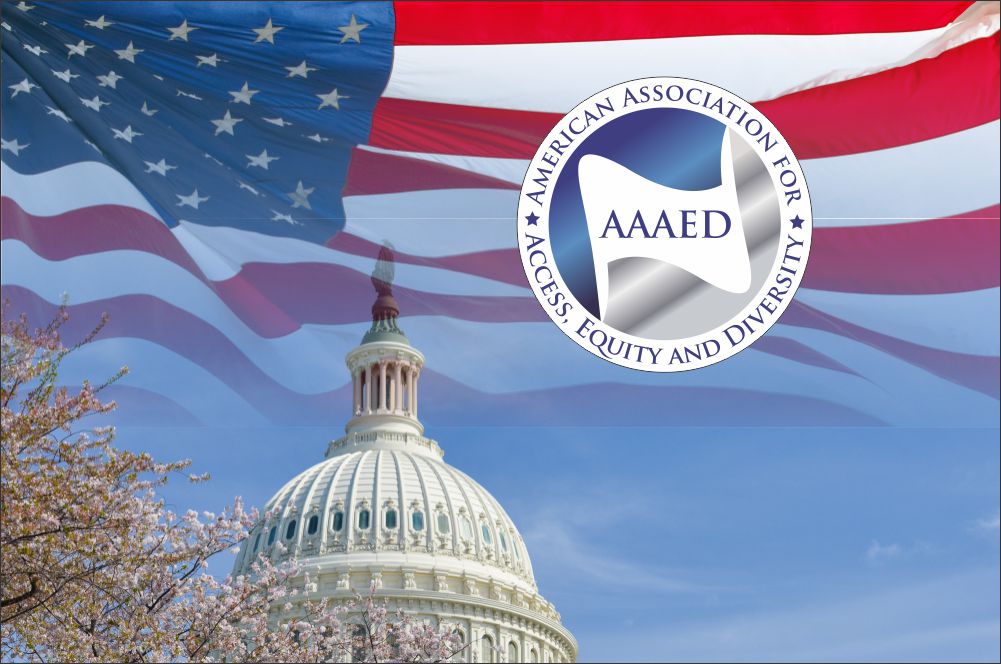 Federal EEO Training
Every year, AAAED provides annual refresher training for Federal EEO Counselors and Investigators who are required to have eight hours of training annually by the Equal Employment Opportunity Commission. AAAED's faculty consists of federal EEO experts who are seasoned in the field of investigations and counseling at the federal level. Individuals who take the training receive a certificate of completion at the end of the course. The course is taught primarily in Washington, DC at the AAAED National Office.
To register for the upcoming training, please refer to the information below.
Click here for the registration site for the June 7, 2016 Annual Refresher for Federal EEO Counselors and Investigators offered by the AAAED Professional Development and Training Institute (PDTI)
Annual Refresher for Federal EEO Counselors and Investigators - June 2016 Tuesday, June 07, 2016 8:00 AM - 5:00 PM (Eastern Time)
Sheraton Tyson's Hotel
(202) 349-9855
8661 Leesburg PIke
Vienna, Virginia 22182
United States
(The Federal EEO training occurs during the AAAED 42nd National Conference and Annual Meeting. For more information, go to www.aaaedconference.org)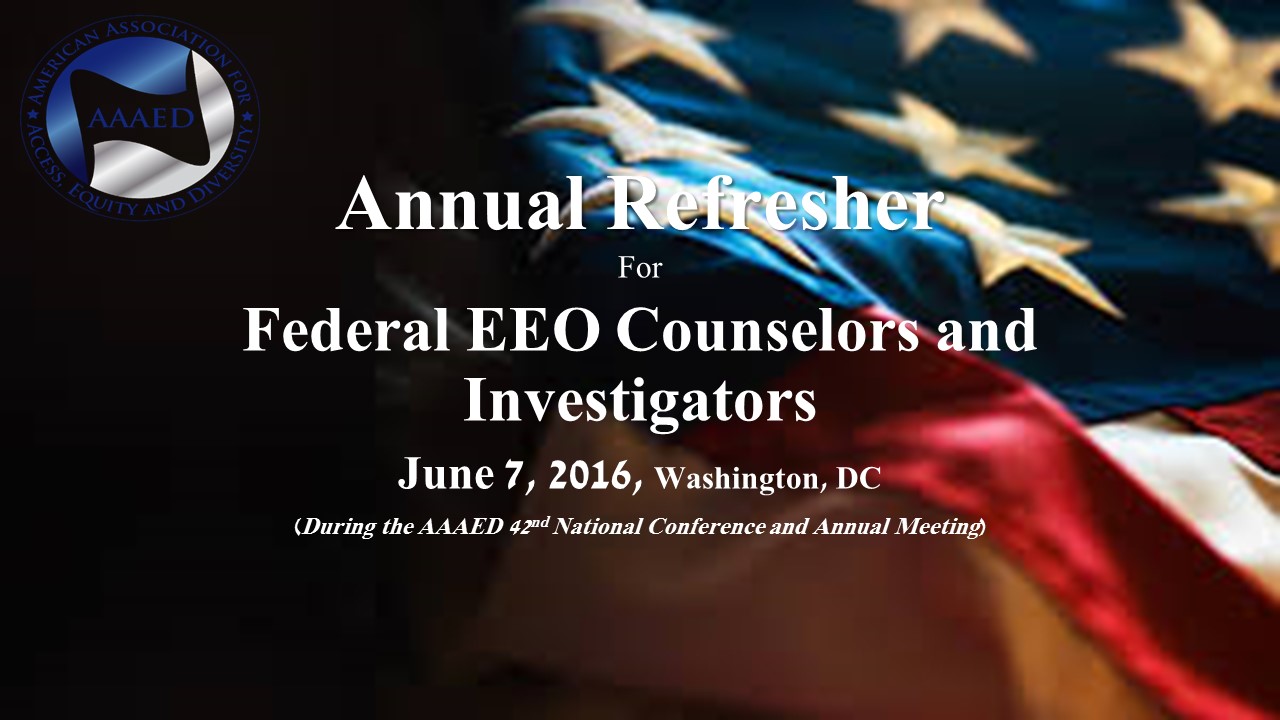 AAAED Members:
$225.00 for the 8-hour course before May 6, 2016
$295.00 for the 8-hour course after May 6, 2016
Non-Members
$255.00 for the 8-hour course before May 6, 2016
$325.00 for the 8-hour course after May 6, 2016
Regular and Onsite Registration Tuition
Onsite Registration accepted if space remains available
***SPECIAL DISCOUNTS***
Registrations of two or more individuals in the same group will receive a $50.00 discount for each registrant.
Contact the AAAED national office for more information. Email: aaaaexecdir@gmail.com. Tel: 202-349-9855.
Participants will receive a AAAED Certificate of Completion at the end of the course.
Training Location:
Sheraton Tysons Hotel
8661 Leesburg PIke
Vienna, Virginia 22182
USA
703-448-1234
AAAED National Office:
American Association for Access, Equity and Diversity
1701 Pennsylvania Avenue, NW, Suite 206
Washington, DC 20006
1-800-252-8952 FREE
(202) 349-9855
(202) 355-1399 (fax)
www.aaaed.org
Course Objectives and Faculty
Course Objectives: To ensure compliance with the EEOC requirement to provide an annual refresher training of eight hours to EEO Counselors and Investigators; to continue the effort to apply EEO Counseling and Investigation best practices in the processing of complaints of discrimination and to provide a better understanding of the relationship between the different complaint processing stages. The session will include: An overview of the methodologies covered in conducting counseling and investigations; applicable EEO regulations and laws; Connecting the informal pre-complaint process to the formal process; Preparing and writing effective Counseling Reports and Investigative Plans; Review of Case Studies as they relate to the EEO process.
Faculty
Kelly Goode
Kelly Goode is the Equal Employment Opportunity (EEO) Officer at the National Gallery of Art. She has held this position since March 2005. Kelly manages the Gallery's statutory responsibilities to create and maintain a work environment that is free from discrimination on the bases of race, color, religion, sex, national origin, age, disability, sexual orientation, genetic information, and retaliation, and an environment in which all employees are treated equitably. Kelly provides guidance and advice to Gallery managers and staff on workplace conflicts and claims of unlawful discrimination. Kelly also provides consultation and training on discrimination, disability issues, diversity, communication skills, and conflict resolution to Gallery staff and to other Federal agencies. She chairs the Gallery's Accessibility Review Committee and promotes accessibility for visitors with disabilities in the Gallery's facilities, programs, and website. She also serves on the Gallery's team for hiring reform, and leads the Gallery initiative for employee wellness. Prior to coming to the Gallery, Kelly served as an Attorney Advisor in the EEO office at the Federal Bureau of Investigation. She began her legal career at the United States Equal Employment Opportunity Commission (EEOC) where she held numerous positions, including Administrative Judge. At the EEOC, Kelly worked on private sector and federal sector policies and programs and helped develop and deliver training programs for EEO investigators, EEO counselors, and the public.
Delia Johnson
Delia L. Johnson served as the Director for the Office of Civil Rights at the International Broadcasting Bureau, Broadcasting Board of Governors (Board). In this position, Ms. Johnson was principal adviser to the Board and Senior Management on all matters relating to equal employment opportunity, civil rights and diversity issues. In her position, she enhanced the Agency's Mentoring Program and established the Diversity Leadership Council. She actively continued to introduce diversity related seminars and forums into the Agency's training curriculum. In August of 2008, Ms. Johnson was acknowledged by the Chair of the Equal Employment Opportunity Commission (EEOC) with an award for her outstanding accomplishments in the area of Federal Sector EEO Programs. Ms. Johnson was also the Chair of the Council of Federal EEO and Civil Rights Executives addressing common concerns of Federal EEO practitioners as they administer the anti-discrimination laws and regulations. Ms. Johnson serves on the board of the American Association for Access, Equity and Diversity.