Register for AAAED Webinars
In 2008, the Association added AAAED Webinars, web-based seminars to provide expert information on current legal, policy and regulatory matters. In 2018, the one- to ninetyminute webinars will be offered every month and are available to AAAED members and non-members alike. Recent webinars have addressed such issues as Disability Issues in Higher Education; Workplace Safety; Sexual Assault, Sexual Harassment and Title IX; EEO Record-Keeping; ADA compliance and accommodation issues; Preparing for an OFCCP Audit; and Recruiting and Retaining Faculty of Color. AAAED Webinars are an excellent, cost-effective and time-saving addition to the tools that professionals may use to hone skills in the field of EEO, affirmative action and diversity.
To access the Catalog for the latest AAAED webinars and to register, click here.
---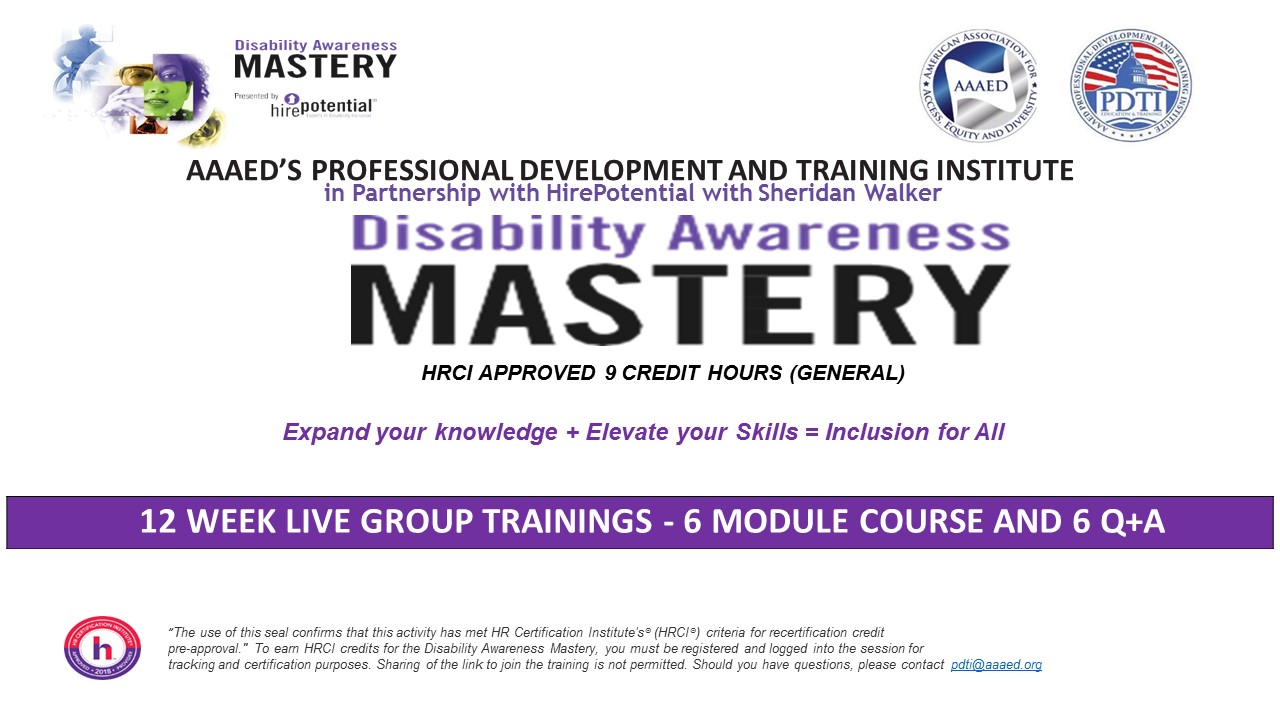 ANNOUNCING THE AAAED PDTI LAUNCH OF DISABILITY AWARENESS MASTERY TRAINING - A NEW WEBINAR SERIES
In celebration of the 28th Anniversary of the signing of the Americans with Disabilities Act (ADA) and the 45th anniversary of the Rehabilitation Act of 1973, AAAED is launching its Disability Awareness Mastery Training Program in Partnership with Sheridan Walker of HirePotential. The Disability Awareness Mastery Webinar Series is a great opportunity to refresh your skills in the areas of (Making the) Business Case and Value Prop, Etiquette & Sensitivity, Marketing & Outreach, and much more.
This 12-week program begins July 31, 2018 and ends October 30, 2018. Registration is open from July 17, 2018 through July 29, 2018.
The ADA, the ADA Amendments Act of 2008 (ADAAA), as well as the Rehabilitation Act, remain important milestones for individuals with disabilities in the workplace. Much progress needs to be made however, in order to achieve true equal employment opportunity. Disability Mastery provides the information needed to enhance your institution's compliance with these laws.
Who should attend. EEO, Diversity and Affirmative Action professionals should register for this informative program. The first 50 AAAED members to sign up will pay an introductory price of $597.00 for the entire 12-week program. Please use promotional code MEMBER for member discount.
THIS IS A LIMITED TIME OPPORTUNITY! REGISTER NOW!
To register for the Disability Awareness Mastery Training, click here: Registration
To view the description of the Disability Awareness Training, click here:
---

"The use of this seal confirms that this activity has met HR Certification Institute's® (HRCI®) criteria for recertification credit pre-approval." To earn HRCI credit, you must be registered and logged into the session for tracking and certification purposes. Should you have questions, please contact aaaedwebinars@gmail.com.