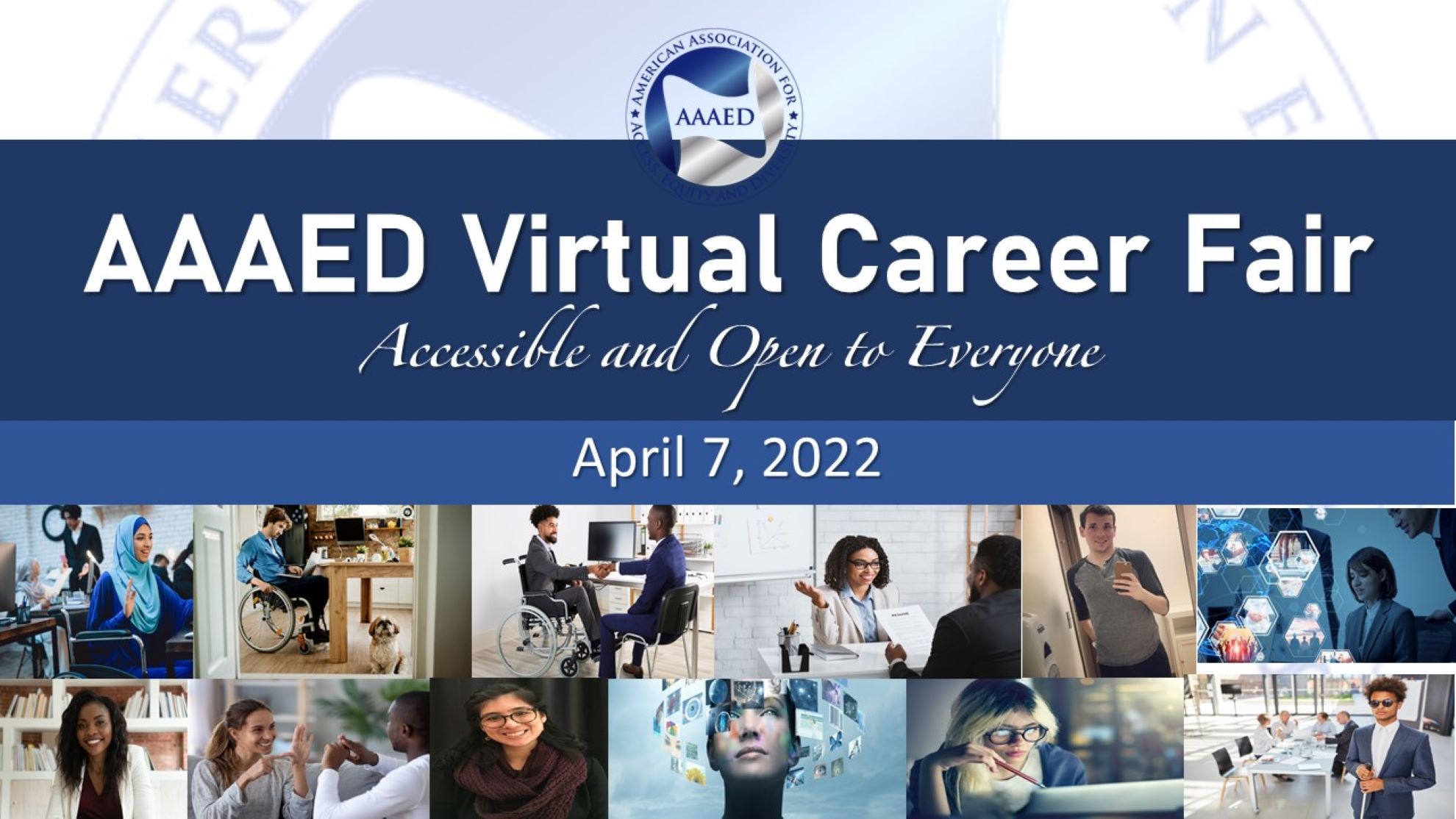 To contact AbilityJobs : score@ability.email
Career Fair hours: 12 noon - 4 pm ET


For AAAED Career Fair Online Platform and Job Seeker Registration, go to: https://careerfair.online/aaaed-virtual-career-fair-2021/
Employers must first register and submit payment on this webpage, and will then be directed to the AAAED Career Fair Online platform for more information.
The price per company/institution for up to two recruiters is $695.00.
WELCOME TO THE AAAED CONFERENCE CAREER FAIR!
The American Association for Access, Equity and Diversity (AAAED) was founded in 1974 as the American Association for Affirmative Action (AAAA), a non-profit membership organization. It is the longest-serving national organization of Equal Opportunity Professionals (EOPs) who engage in the important work of leading, directing and managing affirmative action, equal opportunity, diversity and other human resources programs.
For the first time in AAAED's history, and as part of the association's mission, AAAED is offering a Career Fair for members and colleagues of the equal opportunity profession, as well as students and other professionals. The Career Fair takes place on April 7, 2022. The Fair is accessible and open to all.
AAAED is pleased to join with ABILITY Corps | ABILITY Job Fair | SCORE, an organization that specializes in promoting Career Fairs that are accessible to everyone. True to our tagline, "Advocate. Educate. Activate," the AAAED Career Fair is intended to promote access, equity, diversity and inclusion in colleges and universities, private industry and government.
If you need assistance during the Career Fair, this website will be staffed and open when the fair begins. If you need assistance before the event, please contact ABILITY Corps | ABILITY Job Fair | SCORE or AAAED (pdti@aaaed.org) or click to send the site support a message.
AAAED thanks employers and job seekers alike for their participation in this important event.