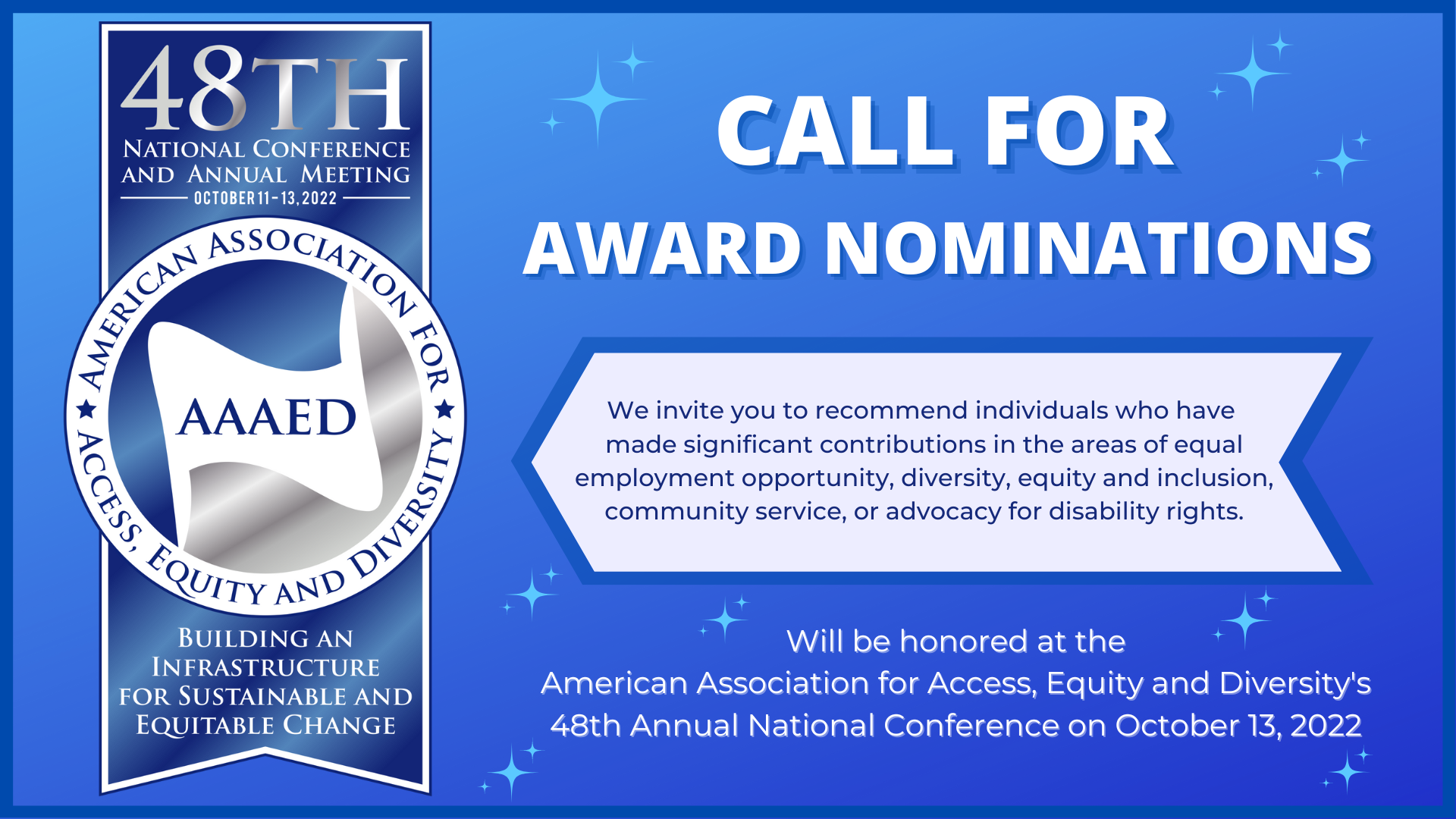 Every year at our Annual National Conference the American Association for Access, Equity and Diversity (AAAED) honors and celebrates the accomplishments of individuals who share AAAED's mission for advancing equity and diversity. Therefore, we invite you to nominate those who have made significant contributions in the areas of access, equity and diversity (equal opportunity, civil rights, disability rights, etc.) through leadership or community service. Nominations can be for individuals, groups, organizations or companies.
Award recipients will be recognized at AAAED 48th Annual National Conference (Virtual), "Building an Infrastructure for Sustainable and Equitable Change," on October 13, 2022.
To nominate someone, please fill out the award nomination form.
*The deadline to submit nominations is August 5, 2022*
AWARD CATEGORIES
Arthur A. Fletcher Lifetime Achievement Award:
Presented to an individual with a lifetime of achievement promoting and advocating for affirmative action, EEO, and diversity.
Cesar Estrada Chavez Award:
Presented to an individual who has demonstrated leadership in support of workers' rights and humanitarian issues.
Rosa Parks Award:
Presented to an individual who has served as a role model and leader to others through personal achievements, excellence in a chosen field, commitment to human rights, civil rights and social issues and contribution to the betterment of society.
Edward M. Kennedy Community Service Award:
Presented to an individual or organization demonstrating outstanding community service, especially in disability rights.
Roosevelt Thomas Champion of Diversity Award:
Presented to an organization or corporation fostering equal opportunity as well as exhibiting outstanding commitment to diversity and inclusion.
Emerging Leader Award:
Presented to an individual who is becoming a leader on the national or local stage and who has demonstrated excellence in the workplace and/or community.