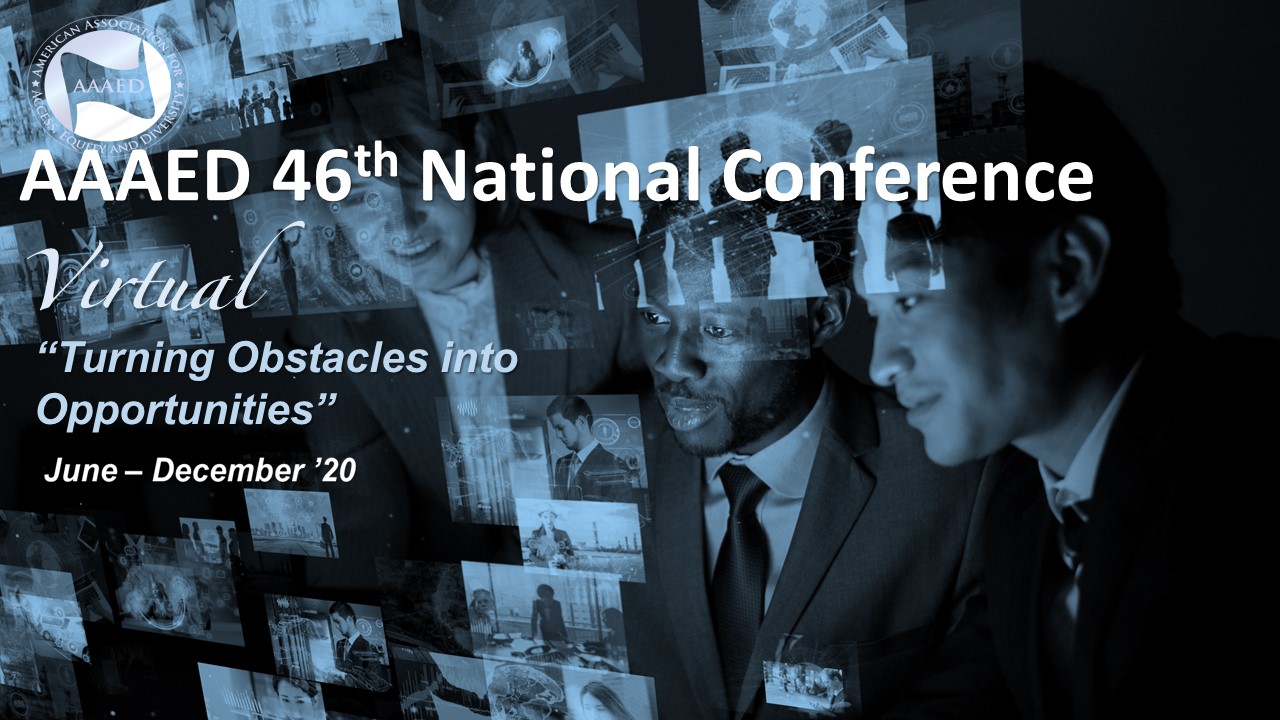 JUNE 23, 2020 TO DECEMBER 30, 2020
WELCOME TO EQUAL OPPORTUNITY RE-IMAGINED
The year 2020 marks the 46th Anniversary of the American Association for Access, Equity and Diversity (AAAED), formerly the American Association for Affirmative Action. It is also the 30th Anniversary of the Americans with Disabilities Act (ADA). The theme of the AAAED National Conference this year is "Turning Obstacles into Opportunities." In view of the challenges the world faces, with an unprecedented pandemic and health crisis, the AAAED conference theme could not be more appropriate. Like other associations, AAAED was faced with having to cancel its annual conference or convert it to a virtual event. We have chosen to turn this obstacle to an online opportunity. Moreover, we are learning to embrace the technology of today and promote our mission of access, equity and diversity in a virtual environment.
We recently launched PDTI Virtual, our Professional Development and Training Institute (PDTI) program, and are now launching a virtual conference. The virtual conference agenda contains many of the programs from the in-person event, but it will be offered in three parts and a longer time frame. First, the conference will begin in June as a Kickoff Summit with some of the keynote speakers previously scheduled, and will continue throughout the summer as separate webinars, masterclasses and "Deeper Dives." In October, we will host a virtual conference, including some of the keynoters who were scheduled to speak in Washington, DC, and will continue through December with the conference workshops converted to webinars.
Conference attendees have the option of purchasing the entire six-month Conference Package, including the June virtual summit and October conference, or may choose the events a la carte, including each of the webinars, masterclasses or deeper dives.
We hope you will enjoy the new 21st Century format. For AAAED, this is equal opportunity re-imagined for the 21st Century. It is also turning a daunting obstacle into a wonderous opportunity to learn and share in a virtual space.
Thank you for your support of AAAED! We look forward to "seeing" you at the Conference!