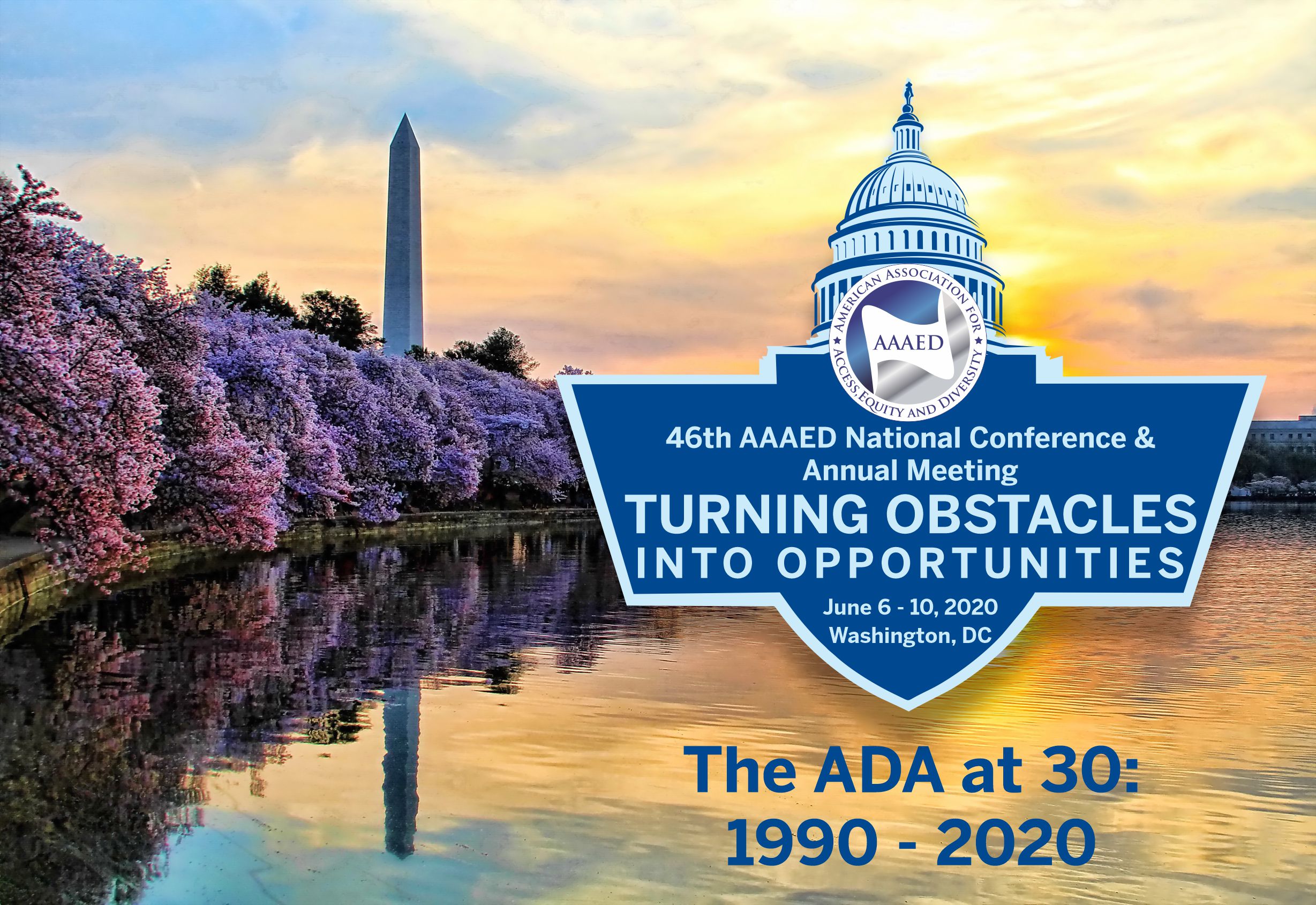 JUNE 6, 2020 TO JUNE 10, 2020
About
AAAED, formerly the American Association for Affirmative Action (AAAA), is a national, not-for-profit association of professionals working in areas of equal opportunity, compliance and diversity. AAAED has 45 years of leadership in providing professional training to members by equipping them to be more successful and productive in their careers. It also promotes understanding and advocacy of affirmative action and other equal opportunity and related compliance laws and regulations to enhance the diversity tenets of access, inclusion and equality in employment, economic, and educational opportunities. Our tag line is: "Advocate. Educate. Activate."
The bylaws of the American Association for Access, Equity and Diversity (AAAED) require that there be "A meeting of members for the transaction of business of the Association to be brought before it, [which] shall be held each year…." Thus, AAAED holds an annual meeting of its membership in selected cities around the nation. The meeting is held in conjunction with a national conference, including plenary sessions, workshops, and other opportunities for professional development and networking. Our theme for the 2020 Conference is Turning Obstacles into Opportunities. We are also acknowledging the 30th anniversary of the Americans with Disabilities Act of 1990.
We seek to provide our attendees with presentations that promote creative, innovative strategies and cutting-edge research to enhance equity and diversity in Higher Education, Government, and the Private Sector. Our professional development offerings are intended to help individuals who are new in their jobs or experienced individuals seeking updated information to stay competitive in the profession. Our curriculum and workshop options support an adult learner mode of instruction that:
Creates a comfortable and respectful learning environment,
Emphasizes the trainings' applicability to address participants' concerns, needs, interests and issues,
Utilize a variety of training methods to vary the presentation of information and help participants understand the meaning of the new knowledge or skills,
Keeps participants actively engaged, and
Encourages participants to share ideas and information drawing from their experiences.
In 2020 we are providing more diversity of choices in the kinds of learning opportunities available. Masterclasses, Express Talks, Preconference workshops or "Deeper Dives," as well as the standard format 1.5-hour workshops will be offered during the conference.
We are also offering four (4) conference tracks that you can mix and match to meet your needs. The following tracks and topics include these and more:
AA/EEO Compliance – EEO, AA regulatory changes, recruiting strategy, applicant tracking, compensation updates, how to move your organization beyond the regulations, Federal EEO.
Academics – faculty recruitment, violence on campus, elevating institutional effectiveness, harassment, aligning with the academic mission, title IX
Diversity/Inclusion – what happens when you are not at the table, moving your diversity program to the next level, LGBTQ, diversity metrics and measurements
Other, including professional development, legal and legislative updates, and other tools to help you move your career forward, changing careers, branding yourself.
Finally, as is our tradition, every fourth year, during an election year, we meet in Washington, DC. We will hold our annual awards ceremony on Capitol Hill and spend the day meeting with our congressional representatives.
Our goal is to provide attendees with practical guidance and tips that can be put to use quickly within your organizations. You will hear from agencies such as the OFCCP, EEOC, OCR, and others.
This conference is designed to meet the needs of any person classified as an EEO/AA or diversity professional. This would include equal opportunity directors, EEO specialists, affirmative action officers, human resource professionals, chief diversity officers, diversity and inclusion consultants and leaders, industrial relations specialists, labor relations advisors, career planning specialists, prospective managers, and other equity and inclusion professionals.
You do not need to be a member of AAAED to attend. However, if you would like to become a member to receive discounts, get more information about AAAED membership.
We hope to see you in DC!