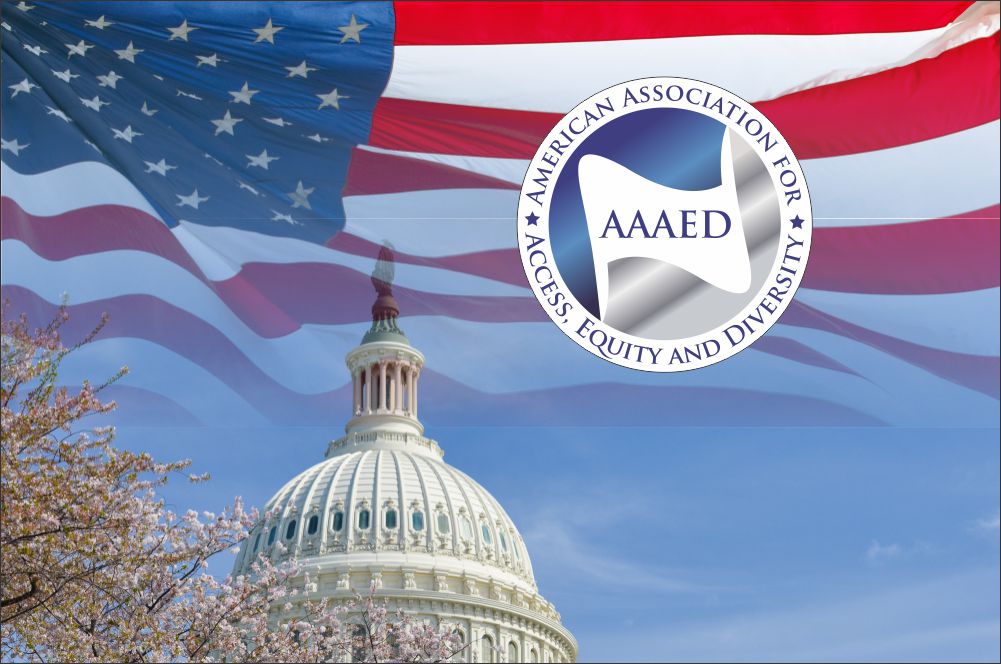 Title IX
Title IX of the Education Amendments of 1972 prohibits sex discrimination by programs or activities receiving federal financial assistance. The Office for Civil Rights of the U.S. Department of Education enforces Title IX and most colleges and universities are covered by this statute. In recent years OCR has been very aggressively enforcing this law, particularly as it relates to sexual harassment and assault.
This section provides information about the latest policies and guidance disseminated by the Office for Civil Rights. It will also provide best practice information shared by AAAED members and colleagues that should be of use to you in your compliance and equal opportunity efforts.
For more information click here.
Title IX and Sex Discrimination - U.S. Department of Education OCR
Exemptions from Title IX (Updated March 8, 2021)
In 2011, the Obama administration reinterpreted Title IX to give the federal government authority to dictate the specific procedures colleges must take to formally review reports of sexual misconduct. Under a "Dear Colleague" letter, the Office for Civil Rights instructed colleges to use the lowest possible standard of proof (a preponderance of evidence) in an attempt to grant accussers more due process rights in sexual assault cases. The rule also advised colleges to accelerate their adjudications and discourage cross-examination of accusers.
Under the Trump administration, Secretary of Education Besty DeVos, rescinded the 2011 guidelines. Under DeVos' new rules, the bar was raised for determining sexual misconduct by using "clear and convincing" standards rather than preponderance of evidence. It also allows for live hearings and cross-examination of accusers and doesn't require institutions to address allegations that occurred off campus (except at events that are a part of a university program). DeVos' controversial rule sought to strengthen the rights of those accused of sexual harassment or assault on campus.
CURRENTLY: On March 8, 2021, Biden signed an executive order directing Education Secretary Miguel Cardona to re-examine DeVos' policy on Title IX. In the order Biden said the Secretary of Education should consider "suspending, revising, or residing it." Biden had previously criticized DeVos's rule on his campaign website, saying it had "rolled back the clock and given colleges a green light to ignore sexual violence and strip survivors of their civil rights." However, it is unclear how the Biden administration will approach the critics who claim the due process rights of those accused will be jeopardized if Obama's guidelines are reinstated. Brett Sokolow, president of the Association of Title IX Administrators, said the Education Department could take a year or two in the rule-making process and any new rule might not go into effect until 2024 (Murakami, Higher Ed. 2021).
Under Obama, the Department of Education also instructed colleges to treat transgender students with the gender they identify. However, before Trump left office, his administration rolled back on this policy, dictating LGBTQ students are not protected under Title IX. As a result, Biden's executive order also plans to reinstate the protections of LGBTQ students, highlighting the current policy's inconsistencies with the landmark decision in Bostock v. Clayton Country, which determined that "sex" under Title VII should be interpreted to include sexual orientation.
Additional Reading:
Eckes, Suzanne and Lewis, Maria. "The complex and dynamic legal landscape of LGBTQ student rights." Brookings (October 2020), https://www.brookings.edu/blog/brown-center-chalkboard/2020/10/19/the-complex-and-dynamic-legal-landscape-of-lgbtq-student-rights/
Carson, Sage and Nesbitt, Sarah. "The Cost of Reporting: Perpetrator, Retaliation, Institutional Betrayal, and Student Survivor Pushout." Know Your IX, Advocates for Youth" (2021), https://www.knowyourix.org/wp-content/uploads/2021/03/Know-Your-IX-2021-Report-Final-Copy.pdf
Title IX and Substance Use
This document discusses the relationship between Title IX violations of sexual misconduct and substance use. It provides insights on how to prevent these acts from occurring and relevant statistics on the issue.