AAAED'S 48TH ANNUAL NATIONAL CONFERENCE:
CALL FOR PROPOSALS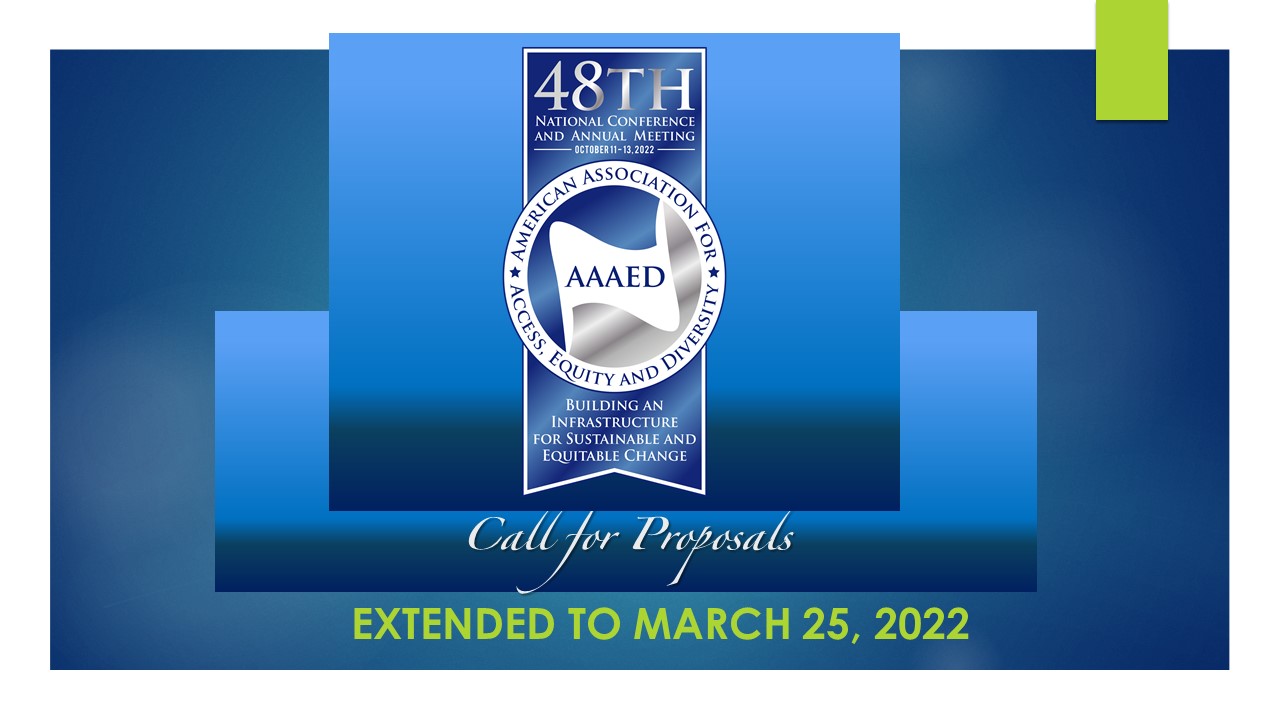 The American Association for Access, Equity and Diversity (AAAED) is seeking presenters to share their expertise, passion and commitment to promoting diversity and affirmative action with a national audience during our 2022 National Virtual Conference and Annual Meeting on October 11-13, 2022. This year's theme for the Conference is Building an Infrastructure for Sustainable and Equitable Change, and we will also be acknowledging the 50th anniversary of Title IX of the Education Amendments of 1972, a major piece of civil rights legislation in American history. All are welcome, including students!
AAAED, formerly the American Association for Affirmative Action (AAAA), is a national, not-for-profit association of professionals working in areas of equal opportunity, compliance and diversity. To speak to the mission of our organization, we are seeking presentations that promote innovative strategies and cutting-edge research to enhance equity and diversity in Higher Education, Government, and the Private Sector. Presentations may be directed at the novice, intermediate, or expert level, and ideally, should help conference attendees apply theory into practice.
All presentations will be virtual and pre-recorded, with time for a live Q&A. We are providing two presentation formats you can choose from:
Express Talks (30 minutes): a "just the facts" overview of a particular issue or challenge, focused on practical tips to achieve the desired EEO or diversity result.

Conference Workshops (60-90 minutes)
Conference tracks include compliance with federal agency regulations/laws, diversity and equity in academia or the private sector, and diversity and inclusion more broadly. Presentations outside of these tracks are welcome as well if they speak to the conference theme and AAAED's mission. For a list of suggested presentation topics and more information about both the conference and AAAED, please click here.
Deadline to submit your proposal EXTENDED: Friday, March 25, 2022
Please submit your proposal electronically to the Conference Program Committee at: Program2022@aaaed.org
Submissions should include:
Session title and conference track (compliance; academic; private sector; diversity/inclusion; other)

A headshot and brief biography of the presenters, including name, title, organization, address, email address, and phone number for each presenter. Please also indicate if you are a AAAED member and if you have presented at previous AAAED conferences

The format (express talk or conference workshop) and level (novice/entry, intermediate, and/or expert)

An abstract, including course objectives and takeaways
*In order to provide a wide range of information to the contractor community, our selection process will not select presentations that are scheduled to be made at other similar conferences.